Let's Localize – Globalize and Stop the Water Rise – Join Us For the 11th Annual ArtBasil.org
Greetings Welcome to Culinary Art Basil! You are invited to participate SUSTAINABLY – SENSUALLY & STYLISHLY in A CELEBRATION OF LIFESTYLE & ARTISTRY – 11 TH ANNUAL ARTBASIL.ORG, DECEMBER DATES TO BE ANNOUNCED – TENTATIVE – WYNWOOD BUILDING – MIAMI – 33127
OUR PURPOSE
Five for Five Alliance – Another Spin Around the Globe – 5 Eco-centric Celebrations – 5 Locations – Another strut down the Green runway – Miami – Beverly Hills – NYC – Dubai – Miami – Toronto
 (ArtBasil-2012-Red Dot- Planet Fashion TV- VIPictures.com )
"The makers of ArtBasil.org is associated with 'Five for Five'. An ad hoc Alliance that spins the Globe, from Beverly Hills to New York – onto Dubai – returning to Miami the first weeks of December and with an evergreen finale in Toronto Q1 2024.
The creators and underwriters of these 'hope-full' gatherings are elevating our ECO-LOGICAL Intelligence. In collaboration, we are implementing transformative strategies that are essential to creating a just, flourishing and sustainable planet for all living beings. We, are hopefully living daily with the resolve that we can ensure better stewardship of the earth for the betterment of all living beings, now and in the future.
Because habitable planets are few and far away. Consume Less. Share More. "—Cristiane Roget, Co-Founder Sustainable Swim Week International Miami
WHERE: TENTATIVE
WYNWOOD BUILDING 2750 NW 3RD AVENUE, MIAMI-FLORIDA 33127 VSTUDIO.INC – SUITE #13 – 33127 FORMER 'NEW TIMES' SPACE –
8000 SQUARE FEET –
10 GALLERY SPACES – 3 POP-UP SHOPS
FULL FUNCTIONING KITCHEN
ADJACENT 4 STORY PARKING GARAGE
GALLERIES THROUGHTOUT THE ONE-STORY BUILDING
ARTBASIL.HEADQUARTERS SUITE 13 – GREEN ROOM
AMPLE SECURE STORAGE
LOAD IN DOCK-
ASKING $5000K RENTAL THREE DAYS , TAX DEDUCTABLE – NEGOTIABLE
RECEPTION AREAS 2000 SQ FEET , 300 GUEST CAPACITY-
RECEPTION AREA 2 1000 SQUARE FEET, CAPACITY SEATED 125
TURNKEY – INSURANCE 2 MILLION LIABILITY – ON PREMISE SECURITY – LOAD IN – LOAD OUT – DOCK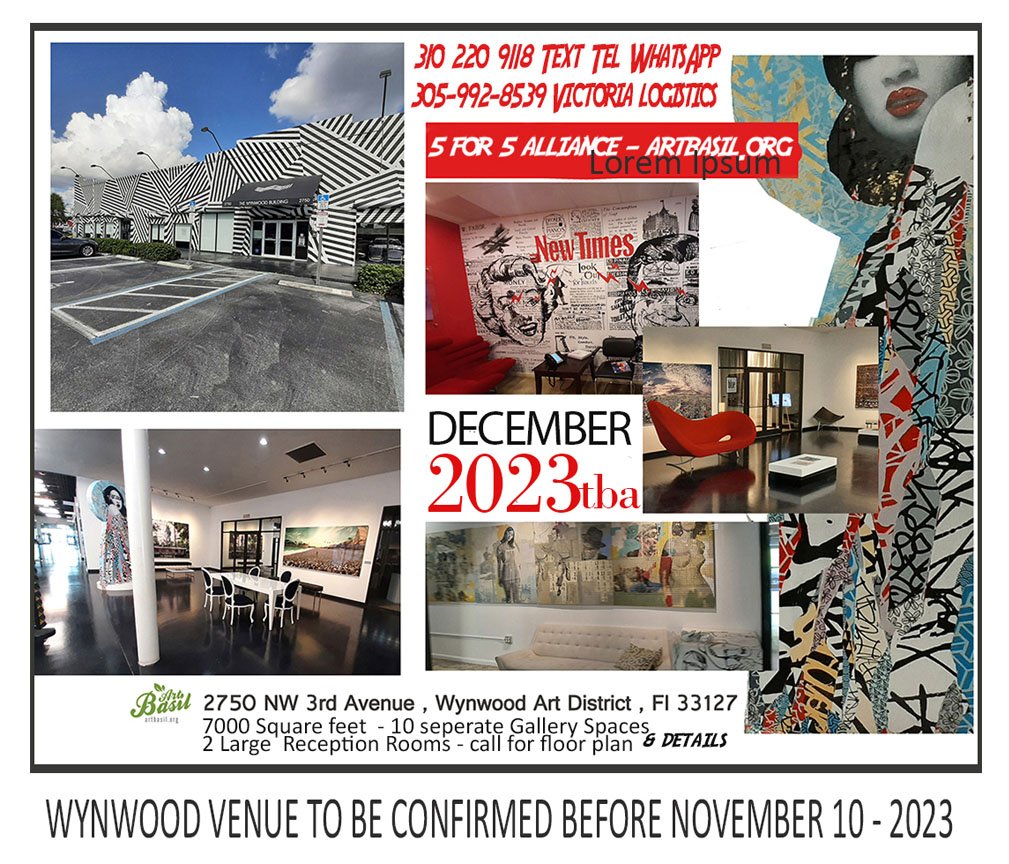 HOSTS:
VICTORIA DIAZ-MIRANDA-WYNWOOD BUILDING – SUITE 13 – BATH & KITCHEN BOUTIQUE / ASSOCIATE CO-MODECO.COM , BIGRIVER RE LLC CRISTIANE ROGET – ART BASIL- CO-FOUNDER – PRESS – PUBLICITY –MEDIA RELATIONS IN ASSOCIATION WITH ADAVENUEGROUP-FORBES/EIN PRESSWIRE ADVISORY BOARD – TO BE ANNOUNCED PAST- CELIA EVANS-PLANET FASHION TV CO-FOUNDER ARTBASIL.ORG – GEORGE BILLIS – FOUNDER RED DOT FAIR – TOP DOC MAGAZINE- -MEDSPA CLINIC FOUR SEASONS – BRICKELL- CLIMATE CHANGE FORUM BHARAIN LONDON -DREAM SPACE PHILADELPHIA – AMONG THEM
IN THE PROGRAM MIX
Open House Group Exhibit – Gala Reception – 300 Guests to Coincide with The University Of Miami On-Premise Gallery Reception
Culinary  Artistry with several well-known chefs, See Celebrity Chefs who have performed in the past. Nightly Basil Demo w Rock Garden Herbs ™
Art To Wear, and a Sustainable Fashion Reveal (one of our previous shows) https://www.youtube.com/watch?v=I-sf4S5xLss&t=170s
Sustainable Fashion – Informal Modeling and Pop-Up Shops
A white linen Field to Table fundraiser to raise awareness about the Decimation of the planets biodiversity and first growth forests.
An homage to  the late Wynwood Muralist 'Lebo' with host and Animal Activist Lorenzo Borghese of South Beach Brewery (The Bachelor Season 9)
Co-op the New Times Space with Several Gallery Activations representing Colombia, Istanbul, Los Angeles, New York, Toronto , South Florida, London and Philadelphia with both emerging and world-famous artists.
Tentative a film retrospective + side bar with trailers of the  best environmental film trailers and shorts of 2022 -2023 and some to come 2024.
Sponsored Exhibit: Standing Up To Censorship – Banned Book Exhibit
Nightly Performances – Dance – Spoken Word – Immersive Showcase
Impactful Panel & Book Signing at the nexus of contemporary, collectable ART (with a message).
Partial proceeds (after hard costs which we keep at a minimum) are donated to our favored Environmental , Health & Wellness and Social Justice Foundations and  Philanthropies.
OVERVIEW
ART BASIL is where an ARTIST'S SHOWCASE meets sustainable 'slow' fashion & Foraged Culinary Artistry , emerging and established galleries , multimedia artists and performances.
ART BASIL 2023 Celebrates the debut of the first COMPACT MODULAR ECO HOME show model (co-modeco.com), See our Prototype in Ironside Adjacent – Showmodels
The makers of the annual Art Basil (artbasil.org), founded in 2012 by Rock Garden Herbs ©
VIPictures.com and with the participation of Celia Evans – Planet Fashion TV, takes extra-ordinary pleasure in inviting you, your company and trademark to be out front of Art Basil's three month press & promotional campaign with a complement of art exhibits, activations and installations.
With all you have invested in bringing your Brand and Artistic statement to market; we are with you to provide the media visibility, engagement, face time and leverage you deserve!
Join us at AdAvenueGroup.com – Forbes France and Vector International Pictures (VIPictures.com), Zrills.com, EIN Presswire along with friends, families, and associates.
Be included in 4 Media Alerts to be distributed to 10,000 + art – fashion centric and eco sustainability writers, editors and influencers. The ArtBasil Media Campaigns and press reception will coincide and complement the 21th Annual Art Basel – Miami.
Our goal is to engage your existing and future clients – customers, audiences, followers and 'fans' and provide you with "deliverables" that include press mentions, visual assets for postings, access to future clients and courtesies extended to your current associates and customers and high net worth in person engagements.
DEMOGRAPHICS
Invited Guests: Global to Local Press – An assortment of Key Decision Makers – Architects – Contractors – Collectors – Developers – Government officials advocating for Affordable Housing and Social Justice – Recording Artists – Thought Leaders that embrace Environmental Sustainability – Family – Friends and our valued Sponsors and their Clients.  You are only limited by your imagination!
Our guests and participants are increasingly moved by the power of fine foraged food, sustainable fashion and a lifestyle culture that embraces, amazes, enchants and provokes.
UNDERWRITERS and SPONSORS are afforded wrap around BRANDING OPPORTUNITIES and MEDIA EXPOSURE. ArtBasil.org is at the very vanguard of where sustainability meets creativity. Join in decidedly one of the world's most jubilant & fresh gatherings.
Our Public Relations embrace approximately 4500 Decision Makers in the worlds of Functional Medicine, Upcycled -Sustainable Fashion , Organic Beauty, Eco Friendly Affordable Housing  by BigRiverRE, LLC and Co-Modeco and Culturally infused Cuisine.
UNDERWRITERS RECEIVE – LOCAL – NATIONAL & GLOBAL MEDIA & BRAND VISIBILITY YOUR BUSINESS DESCRIPTION/ LOGO TO BE INCLUDED.
• Areas Available for Pop-Up shops & Demonstrations
• Brand Positions Throughout the City –
• Share your vision- on LED Screen by Uplight Miami ™ and Media Ingenious
• Privately Branded Basil Bar & Health & Wellness Eco Lounge
• Elegant, Refined Off-Site Event Related Marketing/Promotion calendar curated for you
• Discreet Banners To Be Supplied By Sponsors '
• Your Company 'Boiler Plate'  inclusion in two pre and post media Alerts –(VALUE $2500 with Metrics and Analytics)
• Posts on ArtBasil.org , AdAvenueGroup.com -VIPictures.com, PacRimcc.com, social media & targeted outlets
• Facebook Page, IG and LinkedIn posts (digital content – visual assets- Instagram Pages @Culinary Art Basil @ecoworldluxury
• Digital Content posted with Sponsor Logos
• Inclusion in Elegant Printed and e-invitation
• For early commitments logo included in Sponsor Deck to be distributed to 5500 companies
• Signature Cocktails Need Four Sponsors alcoholic, mocktini's – healthy energy drinks and organic juice
• VIP two-day Pass for a designated # of Sponsor Guests (Bring Your Used Lanyard & paints)
• Live Entertainment & Performance Art produced by
• Designer Totes & Retail Size Swag Opportunities + Pop-up's – Trunk Shows
• Discounts & Invitations to exclusive ArtBasel Shows, Parties and Events
• Inclusion in the ARTBASIL website
• Special Hotel Discounts, AirBnB Direct Access & Luxury Amenities – Act Fast
CALENDAR OF FIVE FOR FIVE LEASD UP EVENTS
"The makers of the ad hoc Five For Five Alliance are aligned with an ever-growing global community that is Hopeful. Hopeful that Five for Five celebrations and countless other occasions serve to elevate our ECO-Logical Intelligence. There is no doubt that our way of being has produced devastating consequences. We are hopeful that with transformative strategies , ingenuity, caring, sharing and collaboration, 'We the people' can boldly lead the change from a dead-end future to what is essential to our being.
Together we are creating a flourishing, socially just, verdant and sustainable Planet Earth for all living beings. Because habitable planets are few and far far away. Consume Less. Share More. " – Cristiane Roget, Co-Founder Sustainable Swim Week International Miami , ArtBasil.org ,
Oct. 19-20 Beverly Hills & SoCal.– Waldorf Astoria Main Event-planetFashionTV.com I
October 25-26-27 New York Travel & Leisure/the19thHoleMag.com /Les Brown + I Am Champion Mindset Javits Center /La Guardia Marriott –
December 2- Dubai Royal Palace – Arthur Chipman Dinner Gala 'Empowering Emerging Nations'
December ArtBasil.org Dates & Venue to Be Announce December 7 -17 ArtBasil.org (11th Annual)
Toronto SOFT OPENING Heal House- January 2024 BY INVITATION-
Toronto April 6 – 2024 Dressed to Kilt – Toronto Founders Dr. Geoffrey Scott Carrol and the late Sir Sean Connery – Co-Founders
BRANDING OPPORTUNITIES, ACTIVATIONS and SPONSORSHIPS
$5000. Exhibit Space, Negotiable
$25,000 Title Sponsor Includes 5 months Press, PR and Promotion 
Tax Deductible With 15% Net Proceeds to a favored Foundation (CC-Forum)
TASK LIST FOR SPONSORS: Please send Logos and appropriate images for re – publishing to eat@artbasil.org, info@zrills.com
A simple, honest letter of agreement is available $500 good faith deposit required at time of signing.  2nd Increment – Prior to Event
CONTACT
Cristiane Roget
Press – Public Relations – Showrunner
VIP PR AdAvenueGroup – EIN Newswire
croget@adavenuegroup.com
T&T 310-220-9118
Victoria Diaz-Interior Design
VStudio.in@gmail.com
Designer – Builder-Co-Modeco
Wynwood – South America
Celia Evans-Founder
Planet Fashion TV
Celia@planetFashionTV.com
Douglas Hardin – EatUp.Events
Music Producer-Performer – Brand Ambassador
Ryan Deramus -Qatar
Consultant – Innovative Housing Solutions
Eva Evrst- Social Media – Editor
evrstmart44@gmail.com
Giovanni – Esty
CoolPplz
Travel Arrangements