Please send photos from ArtBasil to roget@vipictures.com
ART BASIL – DECEMBER 3 -4 A SOCIALLY CONSCIOUS COMMUNITY PLAYED OUT AGAINST A BACKDROP OF MIAMI LIGHT, PHILLY URBAN GRIT, BRAZILIAN GLITTER AND CALIFORNIA DREAMIN' IN THE ZEBRA INSPIRED WYNWOOD BUILDING
By Cristiane Roget, Sr. Correspondent AdAvenueGroup-Forbes France
Miami/FL Called by guests and presenters alike as "an unequivocal achievement " given the spectrum of participants and non-existent budget; the 12th edition of ArtBasil unspooled in Wynwood's eclectic art district, home of the University of Miami Art Gallery and Co-modeco-Bath & Kitchen Boutique Studios. Coinciding with the 20th Annual ArtBasel, ArtBasil celebrated culinary artistry, couture eco fashion, conscientious lifestyle products featuring interactive demonstrations keeping guests engaged and amused.
Mahogany Pen Publishing (an urban literary company) presented spoken word , and their latest ward winning publications while advancing social justice and inclusivity. A full spectrum of artists , filmmakers and bamboo builders had their "creative obsession's" on display.
Observed Victoria Diaz Miranda, Art Basil co-host and partner at Co-Modeco, (purveyors of environmentally sustainable pre-manufactured habitats) confirmed. "This year's ArtBasil commemorated the arrival from Qingdao, China "the first ever eco modular show models slated to be on display in January 2023 on our designated property in Ironside's Industrial District in Mid Miami". William Pierson of Kool Bamboo©, with his family in tow, erected a compliment outdoor bamboo and canvas habitat , which appeared to be more sculpture than utilitarian outdoor habitat.
Robbie Long, the genius behind Live24Hours, in association with Damian Smith, provided leadership and spot-on art curation confirming, "Among those artists and designers showcased were Iris Bonner, Joy Watts, Nas Brown, and poetess Angel White. Also on prominent display were the captivating works of Salvatore Zagami, Hedy McDonald, and Anatta Campbell whose bold SoulJourney Mandala Painting wowed even the most  jaded Art Basel critics." From humble masterpieces and everyday marvels of design,  ArtBasil #12 was a deep, soulful and full tilt celebration of unvarnished – unfiltered humanity.
The energetic epicurean chef and entrepreneur, Oshun presented alongside twice- gifted artist and restaurateur Hedy McDonald of ArtBasil Ristorante located in luxurious oceanside Manalapan. The duo served swoon worthy appetizers feting guests 's with foraged ingredients festooned with an abundance of fresh basil garnishes from Rock Garden Herbs ™.
Marcela Benson signed her opus Love, Peace & Vegetables, a delectably designed coffee table tome that encompasses advice for lives lived well, with artwork by Balinese painter Griyawan and recipes for nourishing health and longevity. Guests munched on carambola (star fruit) from her garden.
Master mixologists created basil infused premium cocktails. The purest and pareve kosher KIKI vodá and juicy Juices, were paired with tastes of lush Reiki Alkaline Waters channeling the universal life force that flows through all living things. Additional pours at the no host bar boasted New AM Excelsior Champagne and EatUp.events portfolio of premium spirits with a taste of the Miami spirit E11even, sustainably produced Flor de Cana Rhum and salted caramel flavored Duke and Dame Whiskey keeping VIG's (very important guests) abundantly hydrated.
"High concept art, literature and spoken word, turned up the volume on voices that matter in a world where often the center does not hold. The message was dial back wasteful consumption and share more. Brandi Hester, educator and founder of Mahogany Pen Publishing melded her award-winning literary publications with captivating multi-media installations that ran the gamut from couture fashion to 'fabulous'. Cassandra Young with Celia Evans of Planet Fashion TV and trending urban designer 'These Pink Lips' were a hint of what's to come at Sustainable Fashion Week by Planet Fashion TV in New York and Climate Change Forum in Beverly Hills at the nexus of fine art, culinary artistry, and environmental advocacy.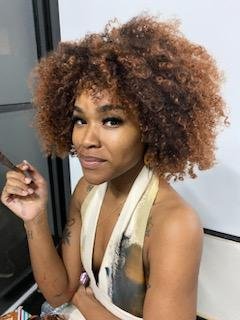 Live24HRS Robbie Long in association with Damian Smith Co-Founder of Kiki Vodka and impresarios at Philadelphia poshest clubs co-produced a convergence of tribes originating from the City of Brotherly Love , Sao Paulo, Israel, India, Daytona' Beach, Ashville-North Carolina, Colombia, California and the tri-counties.
"In the house was an event conceived in love and brilliantly executed without the benefit of funds to underwrite it, "confirms DJ Jovi who in pursuit of a career as a filmmaker captured footage as part of a retrospective she has been producing since age nine.
Silvia Brasil's sexy sensual Bossa Nova finale sustained "positive vibrations" with accompaniment by Indio Jackson at the close of ArtBasil#12. A headline dancer and singer catch her act at the Hard Rock Guitar, Ft Lauderdale. Silvia is right and left brain as founder of ArtBrazil, a multinational marketplace promoting art and culture through the medium of A.I. technology. A percentage of the proceeds from the sale of NFT's are contributed to native indigenous villages in Brazil. www.artbrazil.org
Sheri Kaplan "The Revitalizer", Energy & Sound Healer, provided, restorative head, neck and shoulder massage for ArtBasil's wind down. Guests were entranced by her sound healing display. A calm came over the festivities with a symphony of mallets ,bowls, chimes & modulated bells.
"The art we experienced (with each glorious artist present) featured Salvatore Zagami an internationally acclaimed fine artist, sculpture and photographer whose profoundly sensual oeuvre has been exhibited alongside Frank Stella and Botero and beyond. He has mastered canvas, plastics and other mediums in New York, Florida, Italy and Venezuela. Zagami's acclaim includes awards from the National Endowment for the Arts, as an art juror and professor. He confirms he "is living my dream awake. It's always better to create than destroy. Destroying is very simple. The people who create are the architects of humanity!"
"We experienced art that was the top tier of human expression. Best likened to a posh potluck, I and friends are deeply grateful for the invitation," confirms Ilene Proctor, legendary Public Relations doyenne of Beverly Hills. Up next for the producers is Climate Change Forum (CC-Forum.com) in Beverly Hills, California March 2023.
Video photo coverage was provided by Chevon Bailey of Video by Von. Content creation included Andrew Kutno of Media Ingenious and Ralph Rodriguez of Uplight Miami Productions.
'Literature ' by the gifted Salvatore Zagami.
Visit ArtBasil at :
ArtBasil.org #12 December 3 and December 4, in the  iconic Wynwood Building showcased breakout contemporary artists turning up the volume on social justice and environmental preservation in what was a convergence of local to global tribes joining together as a 'conscious community'. VIG'S (very important guests) agreed in unison, "Everyone felt the soul in the room!"
Now that the  glitter and paint palettes have settled the focus is on the arrival of the first ever Compact Modular Show Models (Co-Modeco.com)  to be built out and on display in the burgeoning Ironside Art District in Miami by Mid-January 2023!
Thank you for taking a Forward-Thinking-Approach in a Wait & See World.
Cristiane Roget –
Press & Media Relations-
Co-Founder Co-Modeco
310-220-9118