DRAFT
by Sr. Correspondent Cristiane Roget, VIPictures-Advenuegroup.com/Forbes France
Skyler Simpson, prepares for Super Bowl Photo Shoot at the Miami Fashion Collective, Allapattah.   She is using the proceeds of her modeling career to earn her Masters Degree in Speech Therapy.  Photo by Gary Kirk Brown.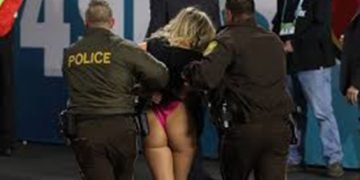 Miami /FL While on the other side of town streaker and publicity seeker Kelly Kay was flashing her bare, Brazilian bum at half time and President '45'  was calling Kansas, "one of the nation's greatest states", Hard Rock security guards failed to recognize 49'ers Coach, Kyle Shanahan redirecting him as he headed to the podium for a post game bloodletting.  Is it any wonder that Miamians have turned being stupid into an art form?  And what a beautiful work of art  Super Bowl Miami 2020 was.
According to the Daily Beast's annual "Smartest Cities" survey, the greater Miami Metropolitan area is the 47th 'dumbest' of 55 major U.S. areas.   Miami received an IQ score of 61.65 out of a 100, which is slightly above a first grader's  but slightly below that of a lab chimpanzee.
One of many reasons  why the visiting 'smart set' sat out the Super Bowl hoopla and gridlock making a dash for Allapattah, Miami's newest go-to destination.   Also known as the Fashion Allapattah Design District  or 'FADD' or  West of Wynwood 'WOW' and 'Art-apattah' just coined by entrepreneur and neighborhood renovator James Quinlan.
"The 'Big Game Weekend' and 'Secret Garden Party' at the Miami Fashion Collective in Allapattah was one of the most talked about gatherings this side of  'the Gronks' bash at the North Beach Band Shell or Maxim's Virginia Key Concert without the sticker shock price of admission," according Gary Kirk Brown of Sports and Swimsuit Magazine.
Organized by impresarios from Vybelle Models & Media Group, Charles Sutton, Producer and Chief Operating Officer of Vybelle models with renowned Fashion Photographer and Publisher,  Gary Kirk Brown and Co-Founder of Swim the Globe Jeffrey Lubin of Jeffrey Lubin Group,LLC were joined by Swim the Globe co-founder Jennifer Sclafani.  She confirmed that plans for the 4th annual 'Swim the Globe' and Sustainable Fashion Week are already in the mix.  The multi-layered event unspooled under in a lush walled Secret Garden with torrential rains that did nothing to dampen anyone's spirits.
Left to right: Jeffrey Lubin-Fashion Consultant and Producer, Brandon David, MD and Charles Sutton. Hampton's and Miami Photographer Hillary Steadle, Adam Tappan,  International Entreprenuer with Jeffrey Lubin , Fashion Producer
The 'Big Game Weekend' in Allapattah was one of the most talked about gatherings this side of the Dolphin Stadiums' Super Bowl in Miami Gardens. The epicenter of the LIV Super Bowl is in a city outside of Miami proper.  "If the NFL had acquired some level of basic understanding from the 'Taking the Knee' poignant protest, its officials would not have snubbed the Super Bowl host city, which isn't in Miami but Miami Gardens, the largest predominantly black city in Florida and the fourth-largest in the United States.  https://www.miamiherald.com/news/local/news-columns-blogs/fabiola-santiago/article239756908.html
Those in the know surmised the City of Miami Gardens was intentionally underplayed in national and global promotion & press due to a predominant demographic that is celebrated on the football field  but was thought to be a possible deterrent to the vanilla vacationers inbound for the 'Big Game'.
Hot Atlantan's  came down in droves.  Steve Eubanks  was a leader of  the pack and Samuel Rael, civic minded attorney and movie producer kept in check.  No stranger to the spotlight, Eubanks is first cousin to Leilani Sarelle and Meilani  Paul (Basic Instinct – Days of Thunder -Married With Children ) and Ex-Chippendale Dancer, Victor Brookes.   Hyped on Cuban Coffee he entertained with a running monologue.  One of his most astute comments about the Miami Garden fracas ,  "What's the big deal? We are all pink in the middle!".
Eubanks made the official announcement that he has been appointed as lead Global Sales Consultant of Akyumen Technologies ™ .  The ground breaking smart phone, tablet and phablet brand name 'Hawk' is on the launch pad for public release in April 2020. The proprietary smart phone features a revolutionary HDTV projector that will allow fans at the next Super Bowl to  broadcast the game on a 40′ wall with the most advanced 90 lumen resolution.  Also on the horizon is the release of two more game changing Social Apps.  One the invention of social scientist  Joe Lu of Toronto, known as Joinhubl.com  and  Diego/Fraser's  LoveApp.   And  "no!" you cannot have 2 million + friends on either one of these ingenious , closed loop,  social networks.  It doesn't take a genius to know where the next smart investments are – Websites.   The bonding between guests from the digital technology, leaders in Co-modeco Green Construction, legal beagle Tiffany Shapiro, Esquire, David Crystal, Founder of Crystal Clear Tutors and Former Miami Beach Mayoral Candidate with  Vybelle Model , Nueva were joined by  Restaurateurs from Nebraska, home of 'the oracle of Omaha, Warren Buffett'.
A full on fashion show was presented by Vybelle Models and Sports  & Swimsuits Magazine that featured the fashion by Showroom305 that included Guria, among others.
Guests danced and moved to the beats of musical  maestro DJ GNO.   Also known as James Waldon, he is the  Official DJ for the NFL's Indianapolis Colts and Fox 59 Indianapolis.  He recently opened for Post Malone  with a mix that kept the multi-generational guests in a dance groove into the late hour.  His extensive collection of musical genres is a tour de force of an impeccably curated musical journey.  The fact he opted for a Secret Garden Party/Big Game Weekend in the backwaters of Miami's Allapattah over Maxim's , The Gronks, and the Star Island soiree hosted by Michael Bay and Jamie Foxx is a testament to  Allapattah's burgeoning global appeal. 
fin: Word Count 900
Cristiane Roget
Sr. Correspondent –
AdAvenueGroup/Forbes France
rogetlink@advenuegroup.com
@ecoworldluxury
EVENT GALLERY
Steve Eubanks, CEO Supreme Imaging,LLC / Co-Modeco is joined by emerging model, Julie Dourron and Jenna Dourran. New York Fashion Week, Photo by Gary Kirk Brown