Read more about our Distinguished Participants
Kristen Connell, the founder of The Rewired Mind, has curated 'The Rewired Mind Retreat' with a focus on Sustainability at the core. Her collaborative vision with Cristiane Roget of AdAvenueGroup-Forbes and ArtBasil.org is to create change and provide space for elevated conversations, inner clarity and alignment amid the pervasive challenges at arriving at a state of well-being in today's world. Panelists include distinguished leaders in philanthropy, personal empowerment, financial intelligence, environmental conservancy and beauty solutions that create inner balance that culminate into effervescent outer beauty. Kristen is a heart centered practitioner and mindset coach that uses revolutionary neuroscience-based methods. Connell's process is powerful & permanent. She is creating the space for inner peace and harmony by addressing the root causes rather than the observable symptoms of what ails us. Through strategic intervention, Kristen has empowered numerous clients to heal and recover from the past, replace-restore their outdated belief systems and ultimately trust in themselves. This creates synergy in the mind required so that anyone can create a fulfilling life experience from the inside-out.  It's from here, we can navigate & neutralize challenges by tapping into their inner wisdom for higher knowledge.
Whether it is through individual or group re-wiring programs, she has created space for her clients to find stability and peace in every area of their lives. Her program is multi-dimensional with qualities that impact our entire structure, physiology, emotions, thoughts, behaviors and all our relationships both personal and professional. Kristen is creating a healing legacy. For those that choose to join her on the journey to create a new version of their enviorn(MENTAL) reality that will bring human growth & flourishing. 
Forbes Riley, is an Award-Winning TV host, Author, Motivational Speaker, Entrepreneur, One of the World's Leading Health & Wellness experts (National Fitness Hall of Fame inductee). Forbes was voted the "Top 20 Most Inspiring People on Television" through her roles as a sought-after spokesperson, broadcast journalist and Success/Results Coach to celebrities, sales teams & CEOs. As a motivational keynote speaker – she's affectionately called "The Female Tony Robbins." Forbes Riley has created a trusted brand name for herself.
www.ForbesRiley.com

Annette BiddyOliver – Dreamhouse MBG Marketing & Branding Group, Founder, President, and CCO of Dreamhouse MBG has become a fashion icon in her own right. With a roster of the most sought-after designers in the fashion pantheon she is best known for her breathtaking productions in New York, California and now Miami. Her company plans countless brand launches, fashion reveals and pop-up shops in a year. Her perfection is in the details giving their high-profile clients peace of mind. In her own words, the goal is to "try to tell a story".
Lisa Nicole Cloud is a multi-faceted entrepreneur. She is the CEO for several successful companies including Elite Medical Associates, MAJL Diagnostic Laboratories, Elite Marketing Strategies, Lisa Nicole Collection and the Women's Empowerment Network and has been on Bravo TV's "Married to Medicine" for several seasons.
With a keen sense of style and a sophisticated eye for design, Lisa Nicole Cloud took the fashion world by storm with the 2013 debut of 3 lines: the Lisa Nicole Collection, the Lisa Nicole Diamond Collection, and the Lisa Nicole Signature Collection. Her goal was to design high fashion, statement pieces for today's professional woman, Lisa's classy, timeless designs make a statement of elegance, power and sophistication.
Tiffany Sexton's mission is to help victims of various types of abuse thrive after trauma.  Her mantra is "You can't change what has happened, but you can create a better future if you choose to via operating as a survivor." Her life has been a roller coaster of five steps forward and ten steps back.  The cycle did not stop until she truly embraced that the first step in the journey is to honor and craft one's self-worth. With the knowledge that most people can't do this alone, her mission is to encourage, inspire and help navigate those in the healing process to love themselves believe they are worth a better life in order to create sustainable personal success.
Her organization, "Living Your Best Life" is an important piece of the puzzle knowing it is easy to ride the roller coaster back to the depths of your trauma, depression, self-destruction, bad decisions and unhealthy relationships. She works with various organizations that have similar missions. Her calling is to partner with other organizations that have the same passion. There are many who join me in this fight who want to be there to love and support others and Fight the Good Fight.
Shannon King, Reigning Mrs. Transcontinental ™ Mrs. Texas USA Universe Ambassador for The Pledge Campaign Against Domestic Violence and Abuse as an overcomer of child sexual abuse, her passion and calling in life is to share her story to help women and children survive their trauma and thrive in life. As the creator and host of A King Size Life podcast that is all about getting off the sidelines of life and living this one life, we've been given in the biggest way possible, she interviews women that have overcome many obstacles to live an extraordinary life. Children and women are inducted into a mindset "that no matter their circumstances, they are not alone, and they can create a beautiful life." She is the mother of 3 incredible children and married for 23 years. Her husband Michael is a cherished and wonderful Stay at Home Dad. She provides the income as a successful Commercial Real Estate agent, co-owner of Synergy HomeCare of Lubbock and Non-Toxic Living Educator.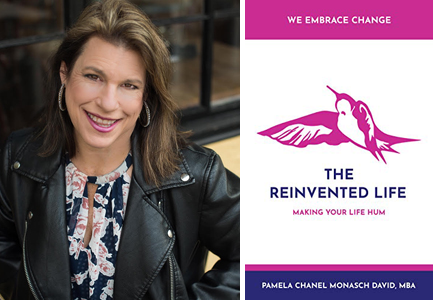 Pamela Chanel David, MBA mission is to empower people to reinvent their lives and businesses. A business is reflective of the core energy of one's self. She specializes in the transition from employee mindset to that of an entrepreneur. Much of her professional career was spent with the Macy*s organization in the cosmetic and fragrance industry. Having reached a senior level management level, she celebrated the world of entrepreneurship by opening a special events company. Today Pamela is author of The Reinvented Life book and is Co-Founder of KissEla Agency Business Advisors. 
Natalie Craig's mission via Walk in Their Shoes is to create opportunities for children in the foster system to have dignity and self-worth via providing clothing and duffel bags to navigate to each foster home.
With the generous collaboration of Under Armour's Next Generation, Natalie and her organization been able to give new track spikes to over 25 deserving schools. We have watched kids break records and win District and State and when asked, how the kids broke these school records, they simply believed it was the shoes. Craig's message to the community is that these changes can empower high-risk children and support uplifting their esteem through providing new clothing, athletic apparel, duffle bags, and collegiate camps that ultimately promote the development of life skills, athleticism, and character building. My passion is to change a negative past into something beautiful and strong with the simple change of new!  
Lorena Cosentino – With over 17 years in the Aesthetics' industry, Lorena Cosentino is recognized as a global beauty expert, a renowned, sought after educator to Physicians and practitioners, and is President of Illari Skin. Lorena is an entrepreneur with a strong will with distinguished accolades acquired during her role as Vice President of Empire Medical Training, the leading educator in Aesthetics to Physicians worldwide.  For the past 15 years, Lorena has traveled throughout the country sharing unique protocols. medical spas.   Lorena began focusing on Aesthetic Dermatology in 2003, and for the past 15 years has also served as Vice President for Empire Medical Training Inc., a physician-led educational organization which has trained over 150,000+ physicians and health care professionals since its establishment in 1998. Empire Medical Training remains the #1 CME provider for procedure training in non-surgical and surgical aesthetics, anti-aging/functional medicine, and interventional pain management. Inspired by her upbringing in Peru and love for her culture, Lorena chose the name "Illari" from the dialect used in Cuzco, Peru called "Quechua". The meaning of Illari is "glowing dawn" and "radiance" which most closely describes the product line and the results achieved. The Illari Skin cosmeceutical is a medical grade product best known for its anti-aging benefits and formulated using natural ingredients and without parabens, sulfates, phthalates, are gluten-free and vegan, all developed using "cruelty free" methods. 
Beverlee Felkner – Beverlee Botanicals
Beverlee is a game changer in the American botanical beauty space. Not just another anti-aging beauty brand. She calls Beverlee Botanicals a botanical luxury lifestyle brand. With a wholistic approach she offers carefully curated products to revitalize your wellness routine. She has been in the beauty industry for over a decade spending most of that time working at the top salons on 5th Avenue, always holding herself & her craft to the highest standards.
Receiving years of education in world class cities like New York and London, her worldly travels and intellectual curiosity inspired her to thoroughly study the European beauty market. Noticing their ingredients were of the purest origins, she then realized most of the luxury beauty products she used were similarly rich in industrial chemicals. She then began a course in Italy for the business of organic skincare, & it was there on the Amalfi Coast where the idea of Beverlee Botanicals was born. "We truly believe in the healing essence of plants and how they can be the best remedies for the body and mind.
Visit The Rewired Mind Retreat to experience and acquire the captivating Swim Week Experience her specially formulated 'the Skincare Blend' a fusion of carrot seed, frankincense, lavender, orange blossom, and with secret ingredients that heal & soothe. www.beverleebotanicals.com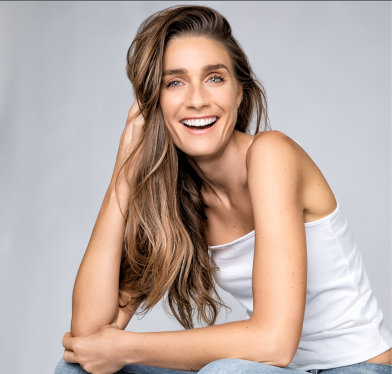 Sara Quiriconi is an actress, artist, creative producer, entrepreneur, and well-being travel authority.  As a cancer survivor, and resilient soul overcoming various health challenges early on, she's an advocate of being a creator, not a victim, to create your own reality. Sara's mission in life is to story-tell, impact and inspire with a legacy of empowerment that last far beyond her years.
Taryn Larock of Sage Larock designs and creates swimwear out of upcycled fishing nets ethically in Miami & Los Angeles will be debuting their latest collection during Swim Week 2021. Taryn works collaboratively with non-profit partners to advance creative solutions for the fashion industry that protect key global conservation areas & wildlife. https://www.notjustalabel.com/sage-larock


TikiYogi -Marisol Rochaknew from the beginning that she wanted to do her part in
creating a more environmentally conscious world. Her first step in achieving that was to bring awareness to ocean pollution. Created in 2015, she started with an expansive variety of swimwear, surf wear and yoga wear, each piece was carefully crafted in Bali out of recycled fabrics and ocean waste.
Inspired by her move to Bali in 2016, much of the island's scenery and lifestyle was incorporated into the brand's limited collections. Influenced by the people of Bali's focus on the wellness of body and nature, TikiYogi began a focused initiative to use eco-conscious and sustainable materials and other recycled materials so that they may continue to strive for the sole use of eco-friendly products, without risking quality over mass production. Each collection is designed with a classic and timeless design and modest cut that includes vibrant prints that mix and match, reversible bikinis, one-pieces and bodysuits, high rise bikini bottoms, eco-tights and day and night summer dresses. The brand is leading the way by using a techno-fabric made of a ECONYL® regenerated Nylon that turns waste into fashion. The swimwear was featured on Condé Nast Traveler. Also, the new Capsule Organic Japanese Cotton and Linen Collection. 
contact@tikiyogi.com or 786.707.1615
Shelby Thomas – CEO and co-founder of 1000 Mermaids Artificial Reef Project, Ocean Rescue Alliance, a marine conservation and restoration non-profit organization, that implements innovative techniques to restore marine environments. She is an expert in marine restoration and conservation, receiving her master's in Marine Ecology and currently completing her PhD in Marine Biology with the University of Florida. She is an environmentalist and marine conservation advocate who hopes to inspire others to protect our environments. She has worked with various restoration projects including coral, seagrass, oyster, sea-urchin, and scallop restoration. The Ocean Rescue Alliance artificial reefs create complex habitat space, enable species specific restoration and serve as ecotourism destinations that combines art and culture to connect the communities they serve. She now has worked with over 25 different restoration projects and continues to conduct research in this field. Through her research and outreach, she plans to assist in conserving, restoring, and better managing our ecosystems.
The ECO Channel, the voice of Earth-consciousness, is primed to be the new "home base" for all things green. As the new administration recognize climate change being a crisis that demands immediate attention, there's a renewed surge in a growing community of those who care about the environment, want to learn more about what is going on, what is being done, what they can do and how they can participate. With an aggressive library of sourced and curated content mapped out and four (4) new original shows in production, The ECO Channel is well-positioned to become a 24-hour channel akin to HGTV and the Food Network with relevant trending issues, DIY projections, experts and personalities.
Robbie Long, is a serial, social entrepreneur based out of Philadelphia taking a ready, aim, fire approach. He is a marketing and hospitality professional trailblazing the emerging cannabis industry. He and his partner, Damien Smith, co- founder of Kiki all natural Vodka created a platform to curate community in which to explore and "experience cannai." Their initiative brings together the legacy markets, entrepreneurs, executives, and enthusiasts around across the nation. They currently curate private events and activations and concerts and festivals including most recently Roots Picnic 2019. Robbie dedicates much his time to his community members and Frontline Dads to mentor men to overcome recidivism. www.cannai.club/miami
Juan Carlos Caceres Juan Carlos Caceres is a long-time resident of South Florida, who originally hales from Bogota, Colombia, giving him a unique perspective and understanding of both the local and international market and the nuances necessary to best serve international investors.
www.miamihomesliving.com 786.285.5984
Fletcher Jewett spent his career building companies through superior access to resources and capital. Since the pandemic, he has brought his capabilities to bear within the regenerative agriculture sector through being a principal in SymSoil and his real estate development is the first to be LEED certified as a sustainable community was built to serve the needs of the Duke University ecosystem. Jewett & Company seeks to replicate this approach to other universities around the US in coordination with the National Science Foundation, FDA & USDA.
www.jewettandcompany.com www.symsoil.com
About The Wonder Woman Initiative:
Join The Wonder Woman Initiative on Saturday, July 10 and meet the living 'wonder women'. Championed by Eidoi Swimwear, it has always been important to stay true to our vision of women aggrandizement beyond borders, and we do this through our brand messaging, and through the creative visual representations of this notion at our fashion shows. In a nutshell, Our Mission is not only to empower the woman, but the mission is also to stir up and enliven the power within the woman, to reinforce it, and to make it apparent. Shee also offer small grants to women with startups and small businesses in underdeveloped countries. Over the years, we have partnered with brands like Bacardi USA, Three Olives Vodka, Novus Shoes, Kate Chan Design, etc. In the media, we have been seen on Miami Swim Week Guide, The Swim Journal, Ocean Style Magazine, Luxe Beat Magazine, FINE Magazine, Miami New Times, The Los Angeles Times, Fashion Week Online, Buzzfeed, Medium, Thrive Global, and more. Special thanks to Ameri Metro – Shah Mathias.

JALU by Jose Alexzander & De La Concepcion
Designer /photographer Jose Alexzander has team up with De La Concepcion family (@fitcouple) with partners will debut his 'Jalu 2021 Swimwear Collection' at SLS on Friday, July 9 after the Rewired Retreat winds down at the Kimpton Angler's Miami Beach.  Get a second glimpse on the Kimpton Angler's rooftop on Sunday, July 11 as part of Dreamhouse MBG Celebrity Fashion Showcase.  J. Alexzander is a serious contributor to the pantheon of sustainable and ethical design.  The manufacturer of his 'Made in America' collection is stylish and flattering.  He will not compromise his company's ethos that "we are each responsible for creating a more verdant and greener planet".  The feel is luxurious belying the fact the fabric is a magical result of recycled post consumer waste. A man of all seasons and persuasions, he made sure his sizing is all inclusive.
L to R. Tayo Ishola – Back to Eden, Dakota, Jose Alexzander-Jalu Swimwear, C. Roget AdAvenueGroup-Forbes, Nicole Resident Artists, and Juliana – Mia Bohemia
Juliana 'Jules'of 'Mia Bohemia' brings an original flair to her eclectic interior design, sustainable refurbishing with artisan crafted styles that include alluring accessories for home and fashion, hand crafted jewelry and decorative accoutrements.    
 Her styles are defined by a lack of structure, opting instead for carefree layers of vibrant pattern, texture, and organic color. While there are some common practices with the bohemian look, there are no hard and fast rules like there are with modern or minimalist. Juliana's refined and luxurious handiwork will be on display at the Sustainable Fashion Week July 8 through July 11 from VIP guest bracelets to the Infinity Scarf necklaces and the staging for The Rewired Mind on Friday – July 9 at 'Back to Eden' on Saturday July 10 and 'One Night in Tangier's' by Dream House BMG.
 juliana@miabohemia.com 954.391.2372
Giovanni Catalanello started out in photography 15 years ago and he loves to be creative. He has photographed special events, model/actor portfolios, and fashion shows. He brings a modality to Sustainable Swim Week unlike anything ever seen before. Name In Light, the latest technology for the future of advertising. Providing real 3D visual Holograms flying in thin air, animated in 8 K color to captivate your audience. a pretty face, it is a 3d holographic integrated Cms system. Name in Light puts you light years ahead of the other promoters.
305.487.1470
Alejandro Glatt Is a Tulum based multidisciplinary artist, passionate about the aesthetic and energetic interactions between fruits, colors and humans.
With a visual arts and permaculture background specializing in flora and fauna, he understands the fruit growing process and how to manifest the abundance cycle. With Sustainable Swim Week he will convey and share the essence of fruit. In a multi dimensional and sensual lens, he serves as a spiritual inspiration with ceremonies and big scale art installations. His message to the world is to connect, play and interact with our nature's resources.
Loni, a CORE confidence coach and belly mentor for women who want to live in a body they love. She is also the owner of Pilates Playspace, a boutique studio which offers group and private classes, in-person and online. Her signature programs, The Belly Immersion and Unleash Your CORE show women how to cultivate a holistic approach to fitness, integrating mindset and movement with intentional nourishment.
Loni is a holds a master's degree in nutrition, holds a certification in both holistic health and in the psychology of eating and a pre and post natal nutrition certification from Dr. Sears Wellness Institute. Loni is Power Pilates Certified and has been teaching Pilates and other movement modalities for two decades.
Loni believes movement is life and has helped hundreds of women get to the core of why they are struggling with their body. Her programs and classes help them to create a more connected loving relationship with themselves, answering the question, "Who are you at your core and how do you want to unleash that power?"
Dr. Darren Naugles is a board-certified Emergency Medicine Physician and a fellow in Anti-Aging Medicine and Functional and Integrative Medicine specialist in Metabolic and Functional Medicine. His advanced approach targets the root cause of issues and early risk factors to promote the highest expression of health in all of his patients. Through cutting-edge testing and personalized one-on-one appointments, Dr. Naugles is committed to transforming healthcare with the purpose of achieving the most natural form of health and wellness for his patients.
www.elitemedassoc.com 770.637.2928
Be in good spirits with Frankly ™ Organic Vodka!
Consumers today appreciate transparency and so do we.  Frankly ™ Organic Vodka lists all ingredients on our label to ensure our customers are aware of what is in our bottles and what they are imbibing. Frankly ™, the creators of Sustainable Swim Week are proud to be presenting this new spirit to the pantheon of premium liquors we will serving. The distillers at Frankly ™ also take pride in not using refined sugars, gluten, GMOs, or synthetic pesticides or artificial colors. We prefer to showcase nature's authentic colors because "Frankly ™, we like real". Welcome to the world of "Conscious Cocktailing." www.franklyvodka.com
GEP Eco Green Earth Products (GEP) is a South Florida-based company centered around sustainable, biodegradable single-use products that imitate plastic. GEP's goal is to be a leader in the transition from single-use plastics to single-use sustainable products that rival plastic in quality and durability while being 100% safe for the planet. GEP's "NatureLine" of products include straws of all sizes (NatureStraw™), cutlery (NatureCutlery™), and bottles (NatureBottle™) made of a revolutionary mixture of plant-based materials that look and feel like plastic yet are home compostable, biodegradable in water/dirt, and completely safe for the environment.
Support@GEP.eco
@SustainableGEP
Philip Nicozisis is the best selling author of "Have Laptop Will Travel." He is an international speaker on veganism and health educator from Hippocrates Health Institute, a 65-year-old nonprofit located in his home town of a West Palm Beach, Florida. His lectures on veganism have taken him to 19 countries in just the last two years. He is also a World Peace Diet Facilitator, commercial real estate, PADI Divemaster, published songwriter and musician. His main business is commercial real estate, where he owns and operates a family office focused on property management and property investments. Nicozisis changed his health and his heart with a switch to a plant-based diet.
Lawrence Curtis Filmmaker – Undersea Expert
Born from early childhood passion, Lawrence Curtis endeavors to work in telling the stories of whales, dolphins, ocean conservation and the fascinating connections we humans have with our aquatic cousins. He is a passionate conservation filmmaker/artist whose work of the past 25 years has been featured in many award winning, international documentaries (Nat Geo, Discovery, BBC, PBS/Nature), and feature films. He is currently focused on immersive art projections that bring awareness to local communities. With a background in psychology and the human sciences, he explores areas of solution-based behavior changes and in creating wonder through his art.
MODERN ART THEORY
Modern Art Theory is a Miami-based music and art project that seeks to utilize technology to assist artists  in capturing more of the intrinsic value of their work. We believe that all humans' true purpose in life is to express themselves, and envision a future where creators are the driving force in the economy.